2017 was the year of the bubbly, swirly, handwritten script fonts. You know, the kind that you find all over inspirational posters and art mugs.
2018 took the handwritten font trend and refined it to give scripts a luxurious, refined look, which is useful for fashion brands, service-based businesses, and anyone who serves a more upscale audience.
Now, independent artists and font designers are coming out with so many new typefaces that it's hard to keep up. Even better, designers often pair script fonts with a sans serif display typeface to create bold, beautiful, and interesting editorial headlines.
This is great because it gives us the ability to match custom fonts and create several different looks with a single purchase. And, we don't have to spend HOURS looking for that right match.
I also love to browse new designs on Creative Market, Pixel Surplus, and Design Cuts because they're made by independent artists and creative studios (like me!).
This post contains affiliate links, which means if you make a purchase, I will receive a small commission. This helps me create more great content for you!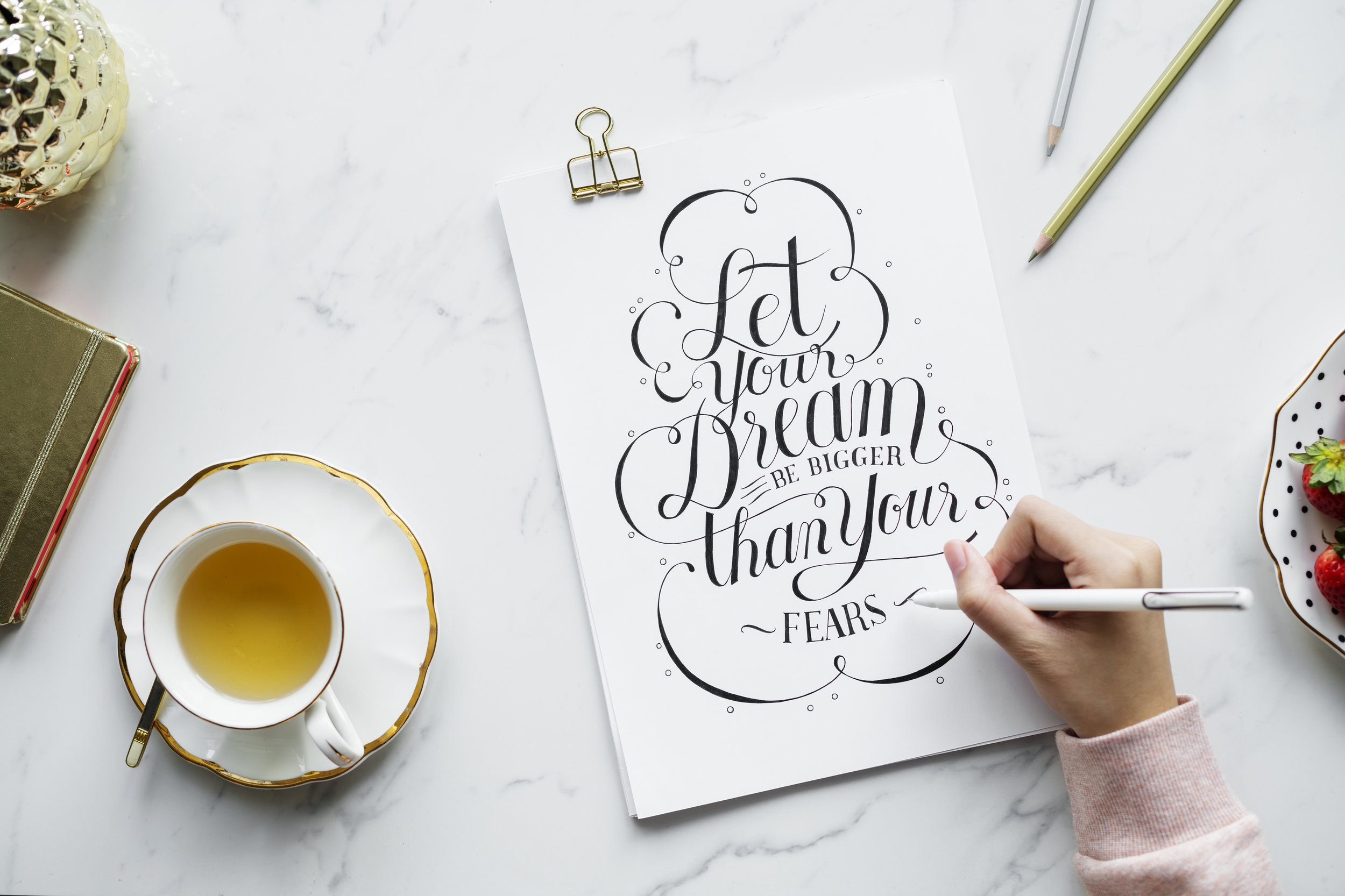 In this post, I've picked out dozens of the best script fonts that you can find on Creative Market (and a few from other sources). Some are wild, some are elegant, and all are made to give your branding and graphics a unique, memorable look.
Some of the typefaces you see here are created by the same designer. That's because they're making so many beautiful new styles (flavors) that it's hard to choose just one, and since I want to give you quality, I've included several of their works.
Some of these fonts may have been released earlier, but are still popular today. Some are currently free, but most are paid. (Btw, if you're investing in your brand, I highly recommend purchasing a font to help you stand out. This way, you'll get several font weights and can use it commercially, too!)
So if you want an interesting script font that perfectly fits your brand personality, try one of these beautiful new typefaces:
Brooklyn Font Duo
Powered by Creative Market
Brooklyn is a really classy dry brush script paired with thin, condensed typeface. This is from one of my favorite font artists, Sinnika Li, who has many great products on Creative Market. I love Brooklyn because it looks so casual but fashionable. You can see from the cover image how you can create a lot of contrast by overlapping the sans serif (straight) and the script font, or by using two contrasting colors.
Somersette & Julietta Script Fonts
Powered by Creative Market
Powered by Creative Market
If you like pretty and girly, this beautiful monoline font might be for you. Somersette is a very stylized monoline font that includes over 100 ligatures (those fancy letter combinations) and swashes and swirls. (You can see my video on using ligatures in Photoshop here.) This font is perfect for personal services, wedding invitations, word art, and signing your name. I also highly recommend Luna Paper Co's font, Julietta, seen at right, which is bouncy and feminine but classy, not brassy.
Opulent Signature Font
Powered by Creative Market
Designed by Sam parrett, Opulent is an elegant and artistic calligraphy brush font. While there are two "normal-looking" options that you can use in any document, there's also a vector (.svg) font with watercolor styling for use with Illustrator or Photoshop. (Just check the product page to make sure your version is compatible.) You can use the .svg to get the delicate textured effects that you see in the preview images. (Or, you can use any letters with your own textures.) Opulent is great for wedding invitations and announcements, custom word art, and unique signatures.
Buttermilk Farmhouse
Powered by Creative Market
Lately, minimal farmhouse chic has become more popular as a design trend, and the rustic script Buttermilk Farmhouse fits in perfectly with that look. Made by Callie Hegstrom, who's also created the similarly cute Bushel and Peck typeface, Buttermilk Farmhouse comes with two styles, 85 illustrated farmhouse vectors, and 14 ready-made logos for Photoshop and Illustrator. (If you're over the top about farmhouse style, you might even want her full farmhouse design font and graphic kit.) In other words, if you're going all-in on the farmhouse look and want to get your brand together now, this is a great resource for you.
Bundt Cake Monoline Script Font
Powered by Creative Market
Another design with a tasty name, Bundt Cake is a happy little monoline typeface that comes in regular, bold, and extra bold. Monoline typefaces are very thin, so they're best used for initials or –monogram– logos. I like this font because it's decorative and refined, whereas some of the other monolines available today are geared towards a vintage look, such as Bourton type family or Canyons of America.
Beauty Style Font Duo – Script & Sans
Pairing fonts is an art, and it's so exciting to find typefaces that give the right "vibe" for your brand. That's why I like Beauty Style, which is — as its name suggests — a perfect font combination for fashion and feminine design. You can find this beautiful font duo in the Design Cuts marketplace.
I also used it in my gift guide template, which is what you see in this preview image, below:
Better Signature Font
Powered by Creative Market
Better Signature is one of the most delicate floral signature fonts available. Click through and look at the way the W curves around like a peony blossom. That's what sold me on this new font from YdhraStudio, and I'm so glad that I bought it. Better Signature comes free for personal use, but you can purchase a license to use it in your commercial projects as I did for my Layered Look Book InDesign template.
Santorini Luxury Signature Font
Powered by Creative Market
This font is one of Creative Market's bestsellers, and you can see why. The product description makes it quite clear that this is a perfect script font for branding. I think it also works great for image overlay writing and callouts. You can see several mood board examples in the product photos that show you what an upscale, luxury signature font this is. Beautiful!
Silver South Font Duo
Powered by Creative Market
This is another bestseller, and it's great for branding. But Silver South is more versatile because it comes with several matching fonts, including a script, script alt, serif, and ligatures. The serif is like a graceful Bodoni alternative and is equally beautiful for headlines and body text. This font is designed by Sam Parret of Set Sail Studios, who has several other gorgeous fonts featured here.
Prestige Signature & Serif
Loading Preview…
Powered by Creative Market
Often, you'll find script fonts paired with sans Serif, but this font duo includes a styled stencil serif font instead, with beautiful ligatures (those flourishes that make certain letters unique). The cover image says it all: Prestige is classy with lots of intrigue and an upscale look. While it's a great font for branding, it's also useful for magazines, announcements, or anywhere else you need to make an impact. If you're a fashion brand or going for ultra-luxury, try out this font.
Northwell
Powered by Creative Market
I can't help but featuring this typeface, again by Set Sail Studios. I was using Northwell before my rebrand. It's a popular dry brush script with a lot of attitude and alternate letters (found in the glyphs panel) so you can perfect your typography. It also includes swashes and alternates.
Fonts Bundle + Collage Graphics
Powered by Creative Market
Pharosi Script Font
Powered by Creative Market
Pharosi is a bouncy yet elegant font that comes in only one weight, but you can see from the product mockups on Creative Market that it has a lot of personality. I like Pharosi for its alternating letter heights, and it comes with open type features including beginning and ending swashes, numbers, punctuation, alternates, and ligatures. This is a font that would be very popular on social media posts, products, and branding.
Wink Wink + Margo Script and Serif
Powered by Creative Market
Powered by Creative Market
Jen Wagner Co has so many amazing modern typefaces to choose from, but I picked these two examples to highlight the versatility of her designs. Many of her typefaces are named after great cities around the world, so if you're a travel blogger, these might be fun to play with. Wink Wink is fun for styled quotes, while the new Margo script and serif font duo has a little bit of quirkiness to its elegance. And if you're looking for pure elegance, try the Amaro typeface that comes with logo templates.
Poppit+Finch Font Duo
Loading Preview…
Powered by Creative Market
Loading Preview…
Powered by Creative Market
Poppit & Finch is a super cute font duo that comes with several happy illustrations of leaves and garden items. Nikki Laatz, one of Creative Market's most successful designers, has so many popular fonts in her store that it's worth checking out her collections. I chose to feature this particular font because it's great for children's clothing brands and handmade businesses. You might also like the modern farmhouse script Chin Up Buttercup, the rough + solid brush script set Belluga, or any of her watercolor effects to go with your feminine branding. I also posted Pringles and Tweed, below, because it's such a smooth signature font and is ideal for food bloggers, as her imagery shows.
This font and collage bundle is made for female bloggers. It's a collection that includes over 20 fonts, cut out flowers and illustrations, torn paper textures, and trendy brush strokes (fun graphics!). Whether you're a designer creating websites for others, or you're looking to DIY your own brand, this feminine collection is a great starting place. It includes so many elements that you'll be able to refresh your look often without having to buy more new packets.
Candlescript Pro
Loading Preview…
Powered by Creative Market
Candlescript Pro is a smooth, classic font that doesn't scream "vintage"! Its large swirls remain elegant and refined instead of purely decorative, giving this font a little more versatility in your projects. This font has more than 2,850 glyphs — that's more than I've ever heard of for other fonts, so you can uniquely customize it for any purpose. It looks beautiful at large sizes, with or without swashes. It's really nice for large advertisements or even wedding invitations.
Floral Theory
Powered by Creative Market
I had a hard choice selecting among Peach Creme's beautiful script fonts. Floral Theory is a modern calligraphy font that's dripping with inky goodness and would work great for lifestyle brands. You can see it in action by the gorgeous cover mockups. It takes a look at Peach Creme's other fonts, too, like the beautiful Santorini, Wild Moon, and Eternal Paris. Just the names make you want to brand your business with such exciting ideas!
Handwritten Font Bundle
Powered by Creative Market
If you really can't make up your mind between just one of these fonts featured above, you can also try out bundles, like the Handwritten Bundle by Vlad Cristeas that's full of beautiful handwritten scripts and a few quirky, girly fonts that are great for quotes and social media.
There's also the mega font pack by Mellow Design Lab that will give you more typefaces than you know what to do with. 147 of them, to be exact. The Creative Market Standard license lets you install each font a single time, for use on multiple projects.
Loading Preview…
Powered by Creative Market
Silver South
Powered by Creative Market
Silver South is another font duo from Sam Parrett. This combination is perfect for fashion brands and those who want to grab a lot of attention. With a bold modern serif font (similar to the Vogue-worthy Bodoni) and a scribbled script, you'll be able to create all kinds of headlines and announcements.
Georgia
Powered by Creative Market
Georgia is a modern script font, which means it's all over the place and totally unique. Great for signatures. Many different letterforms so you can make unique combinations with a program like Illustrator (use the Open glyphs).
Other similar fonts include The Styled Edit, Crystal Sky (which comes with some cute hand-drawn doodles), and Signature Collection.
Outside
Powered by Creative Market
Outside is an elegant script font that comes with a bold sans serif. The fonts' designer has generously created a few videos that show you how to access the alternate characters that come with the script font, so you can create beautiful compositions on your own.
Also, if you like this font but it's a little too bouncy for you, try the Adora Bouton, which has a similar feel but is even more elegant. You can't get more luxurious than that.
Wrapping It Up
Script fonts ARE still in style, and they probably will be for at least a few more years. They make your brand more personal, and especially for jewelry designers, handmade businesses, and those who cater to females.
Most of the fonts that I've shown you here are available on Creative Market, but be sure to check the deals on Pixel Surplus and Design Cuts, too!
You can judge a lot by the font's product mockup screenshots, but these websites sometimes allow you to type your own text to see a preview. Then you can get a good feel for how the font looks IRL.
Did any of these fonts make your brand more beautiful? I'd love to hear about it!