+ End-of-Year Marketing Planner
This post contains affiliate links, meaning that I get a small commission if you choose to purchase anything through my links. This helps me create better content for you 🙂
Ah, the end of the year! The kids are back in school, crisp fall breezes begin to blow, and we can look forward to more time with family and friends coming up.
Yes, the holidays… I can already feel a little bit of panic in the air.
Some small businesses make sales consistently throughout the year, but other businesses boom around the holidays. For example, custom jewelry designers get more orders around the wedding seasons, and stationery does well for back-to-school.
But almost anyone can make a plan to drive more website traffic and get more sales during the year-end holidays. But you have to prepare.
In fact, many well-established businesses start preparing for the holidays WAY in advance, like in June or July. (That's when holiday gift guides get sorted out. But In the coming weeks, I'll show you how to quick create your own so you can get your share of the sweet pie.)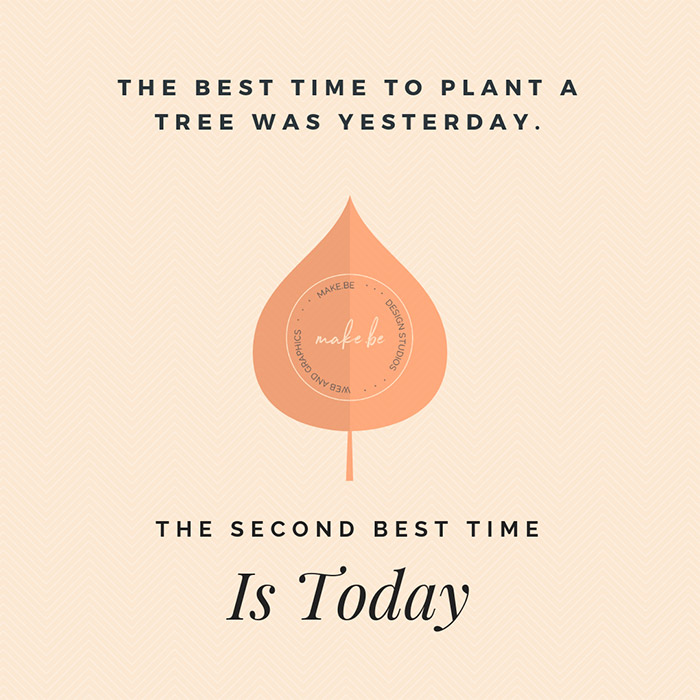 In truth, September is very last-minute for holiday preparations.
But as always, late is better than never, and if you haven't already planned your marketing for the end of the year, NOW is the time to get started!
So let's take a look at how to get your marketing ready for the holiday season.
1 | Take Stock of What You've Achieved So Far
With so much going on, it's easy to get overwhelmed with the seasons coming up ahead instead of assessing where you are. But going through your business back-end will help you better prepare for the end of the year.
Hopefully, you've been keeping your books, paying quarterly taxes, and managing your inventory all along. If you're really on top of things, your content has been going out at the correct times, and you've even got an understanding of your analytics.
If not… now's the time to do so! In particular, since we're on a tight timeline, we need to find out what's worked for you so far this year, and what hasn't.
What were your best seasons? Did you get any unexpected sales, or did your sales drop off at a certain point? What did you do differently at these times? What were your most engaging blog posts/emails? Which pages on your website are not doing their job?
Look at your stats from the previous year(s), also, to see if you have any patterns, and what you can expect for this coming season.
In short, you're not going to know what to do going forward, until you take a look back. So assess your progress so far and then make a plan of action.
2 | Make Goals for This Holiday Season
I, personally, am not a fan of setting goals, as things always seem to come in the way. (Which might explain why my early-stage business growth often took a back seat to other things.)
Good for life. Not so good for business.
That's why this last quarter, I'm going to plan out and stick to some goals. Like, putting out new content at least every other week. (Barring any more natural disasters, like the recent flood that sidetracked me, this shouldn't be too hard).
Also, making connections, and adding more products for creative business owners to my shop.
You can make number goals, or just go with a general outline for now. Because without making goals to guide you, you'll have no idea what to concentrate on.
Do you need to make a certain amount this year? Do you want to open up a few more wholesale accounts to help you out? Or, maybe your aim is to spread brand awareness and grow your email list.
Whatever it is, I've included a download link at the end of this post to help you plan your holiday marketing activities, so you can use this for a good start! The action part will be up to you.
3 | Get Your Calendar Out
Planning makes perfect.
Once you know what you want to achieve, you need to find the quickest route to reach there. With only 3 months to plan for, it should be easy to see the crunch.
Plan things with the big picture in mind so you don't overwhelm yourself, and pick only a few goals to target.
For example, let's go over the major U.S. shopping dates for 2018:
Columbus Day Long Weekend – Mon, Oct 8

Halloween – Wed, Oct 31

Black Friday – Friday, Nov 23

Small Business Saturday – (UK) – Saturday, Nov 24

Cyber Monday – Monday, Nov 26

Hanukkah – Sun, Dec 2 – Monday, Dec 10

Free Shipping Day – Friday, December 14

Christmas – Tues, 25th Dec

Post-Christmas Sales – Start Wed, 26 Dec
See this post by EU shipping co Packhelp for a larger list of holidays and shipping dates.
Which holidays are relevant for your business? Obviously, Black Friday and Cyber Monday are great times to offer discounts and push your online products. So is the time around Christmas (and even after!).
But there might be other dates to get ready for, such as local trade or craft fairs. For example, Renegade in the U.S. has several shows during the end of the year.
And what about seasonal holiday markets and local events? Also, you might want look up the major buying dates for your industry.
And keep in mind that since we're at the end of the year, some of these events might be preparations for making sales NEXT year. For example, next year's Spring fashion is already hot in the Fall.
4 | Start Planning Your Year-End Marketing Activities
Now that you've picked a few dates to target, you'll need to figure out the build-up.
*Overwhelm*
Let's take it one step at a time.
Say that you're going to advertise your boutique and you hope to drive lots of traffic to your store, especially on "Cyber Monday", which is also apparently the busiest sales day for local clothing and accessory shops.
You'll have to plan strategies for both your online sales (because you do have an active email list, don't you?) and in-person promotions.
What might you need to do to market yourself well? Here are a few ideas to get you started:
Online Marketing for Your Online Store or Boutique:
Send out in-store discount coupon to email newsletter

Create gift cards and notify list 1 month in advance (set validity to expire a few months later so you cover the end of the year)

Invest in Facebook Ads or try Google or Bing Adwords

Make sure you're listed in all relevant business directories

Update your Google+ page

Set up a new discount code for your online store + prep graphics for holiday season
Local Marketing for Your Your Online Store or Boutique:
Take out a 3-month ad in a local publication

Advertise in holiday gift guide (or create your own!)

Print flyers or rack cards and distribute around town

Make sure your catalogs and line sheets are ready for distribution

Print special holiday business cards and hand out at local events

Book a booth at a local trade show or market

Network with chamber of commerce and local shops ahead of the season

Make your store and/or handmade products look the part: dress up your packaging
Get out your planner and pick 3 Main goals and the supporting action steps to get you there. If you choose to launch a big event, you'll have a lot more prep work to do for it, so you can use a combination of incentives to build up to your big sales dates.
You'll also have to think about your messaging and graphics to support any advertising that you'll do.
My Holiday Marketing Planner has more ideas for you, and breaks everything down so that you can create your big goal and plan out the supporting activities (action items) for each goal.
For example, let's say that your goal is to make an extra $5,000 in sales this holiday season. Is that doable? That would mean about an extra $1,000 – 1,500 per month in the last quarter. Depending on your business, that might be a reasonably achievable goal.
Let's see what we could do to help you get there:
Marketing example for a handmade jewelry designer:
Let's say that you sell handmade jewelry. Everybody loves jewelry, and the holidays are a time when most people are willing to spend more on something really unique and special. This goes in your favor.
But they'll also expect sales and discounts, which you need to work into your plan.
So what are some things that we can do over the next 3 months to help you reach your income goal?
GOAL: $5,000 in Extra Income
Main Marketing Activity #1: Set up Booth at Local Holiday Market
Promotions
Blog post about the market + best finds

Blog post + newsletter shout out about your new collection that you'll be selling

Team up with other local jewelers/sellers at event and product gift guide
Discounts
With ad in local paper/market gift guide

For anyone on your mailing list who shows up in person
Supporting Activities
Make connections with local influencers on Instagram

Connect with other shop owners in area for promotions

Make sure your website is ready for new business

Create graphics for website, blog, ads, and booth

Schedule posts to website and social media
Need more resources? View my favorite tools to help you run your online store or boutique.
It's Time to Get Started
We've no time to lose now, and everything to gain!
Planning for the holidays now will make your life so much easier over these next few months, and you'll likely be able to start off the new year with some extra cash in pocket, more connections, and a whole lot of ideas for the future!
Let's make this a fantastic year for your business!
You can get more end-of-year marketing suggestions and write down your own ideas on this helpful holiday planner I've created.
Know anyone else who could benefit Pass it along and enjoy better holidays together!