It's a mid-year trend report! Because it's never too late (or too early) for a fresh dose of inspiration.
While I've been absent from blogging, I've been doing a lot of trend research and creating a lot of art, much of it influenced by the colors, themes, and trends that I'm constantly seeing.
Many of these trends we've been seeing for a while now  — sometimes even a few years. While it's great to be an early adopter, if you're someone who just didn't get around to adopting these trends in your own work, it's not too late.
Here's my round-up of mid-summer design trends that I believe will keep going strong into autumn (when we'll start seeing predictions for next year's trends):
Color blocking

Line Art

Abstract shapes

Modern Boho Design

Tropical foliage

Animal Prints

People + Diversity

Fonts with Personality

Shadow Overlays
Read on to see some beautiful examples and get inspired for your own art and design.
**This post contains affiliate links, which means that if you make a purchase through one of my links, I will get a small commission, which helps me keep making great content for you!**
Color Blocking
Let's start out with one of my favorites. Color blocking is an easy way for an artist to express himself — who doesn't love big swathes of color? On an accent wall or on your clothes, color blocking is an easy way to express your personality or your mood.
It's also an easy way for an artist to stay on-trend by adding large patches of color to their design, leaving out the details and instead relying on the composition and different values and tones to create an atmosphere. This trend is currently popular in wall art, and it's really fun to create this style with gouache or even on your iPad in Procreate!
We're seen color blocking in digital illustration for a long time, too, often made more subtle by the use of gradients, or as the still-prevalent amorphous blob. Now we find blocks of color frequently in pattern and product design.
Where else to use color blocking?
Interior design – color block a wall

On the shelf- make your products stand out with bold packaging

In your art prints
Powered by Creative Market
Picasso- Inspired Line Art
Picasso wasn't the first to become popular for his sketches, but his line art illustrations have remained as popular as Matisse's cut-outs.
Once when Picasso was sitting in the park, a woman approached him and asked for him to draw her portrait. He studied her for an instant and then did a single-stroke sketch. She loved it, but when she asked him how much it would cost, she was shocked at the price.
"But it only took an instant," she said.
To which he responded, "Madame, it took me my whole life."
(Remember this next time someone asks you for a quote.)
Creating line art might make anyone feel like a Picasso. But if you know that you're not one, you can easily buy trendy line art graphic sets to replicate the look.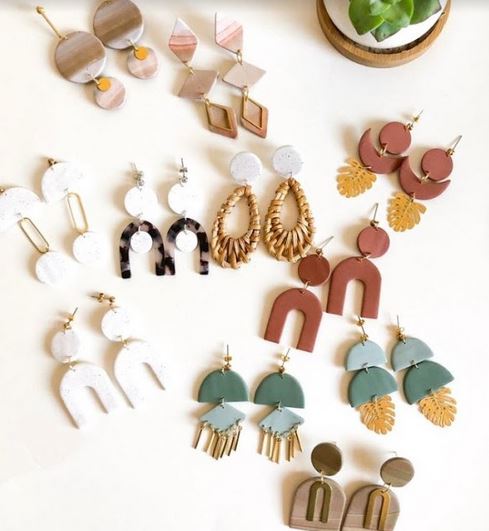 Polymer clay statement earrings: FreeSpiritFiberCo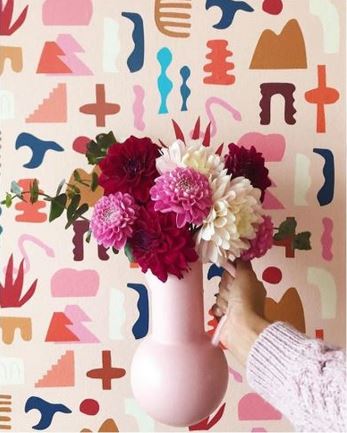 Abstract pattern wallpaper: KateZarembaCo
Abstract Shapes
Riding on the heels of the two previous trends, we also see a strong continued interest in minimal shapes. While shapes are essential elements in minimal design, we're seeing jewelry and clothing take on new angular shapes as well.
Statement earrings (and statement everything!) are big and bold. But it's not just the details: abstract shapes are on the walls, on our shoes, our bed clothes. I love this trendy because it's so fun and playful, and really easy to create. Just take your pen tool or blob brush and draw some fun shapes, then fill with any solid color—from pastels and terracotta to bright cobalt and yellows!
See these links below for more inspiration.
Macarme wall hanging by CloudyMtnMacarme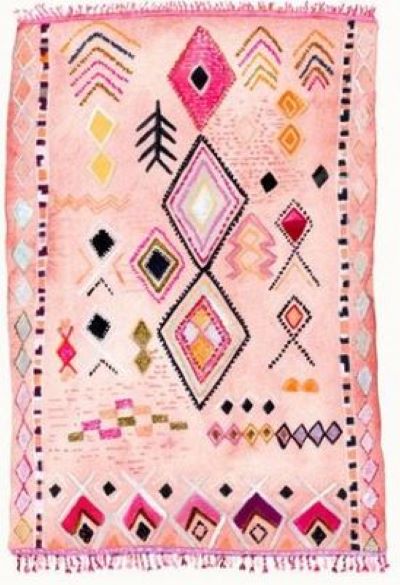 IWatercolor Kilim by SnoogsAndWilde
Modern Boho Design
How do these shapely trends incorporate into home decor? Let's talk about modern boho for a second.
Boho doesn't have to mean dream catchers and fringed ponchos. Sure, that's fine for festival wear, but the travel-loving, free-spirited vibe is reborn for interiors as a mix of sophisticated shapes with eclectic patterns of the world. Think African mud cloth, Japanese shibori, and Turkish kilim to name a few.
Modern boho expresses itself in pronounced textures, pairing colors and patterns from different traditions, and handmade details. Oh, and don't forget the house plants!
If you're going for the modern boho look, try to think about keeping clutter-free spaces, and investing in unusual materials and statement pieces that add a personal touch to your space.
Bonus points if you can incorporate two trends in one!
Powered by Creative Market
Animal Prints
It was predicted and yes, the animal prints continue to go strong. Once it was leopards, now it's tigers and zebras. In summertime, anything bright and colorful looks good, but these trends are also being adapted in new colorways for fall looks.
Not saying you have to do it — I'm just saying that it exists and it's still a "thing".
Tropical Foliage
Will flowers and foliage ever go out of fashion? The tropical trend comes back to us every spring and summer, reminding us of far-off places where our laptops fear to tread.
What about tropical leaves AND animals? Win-win! This trend goes hand-in-hand with our wild animal patterns and makes for some fun urban jungle art. Here's one of my favorite art prints from 83Oranges via Society6.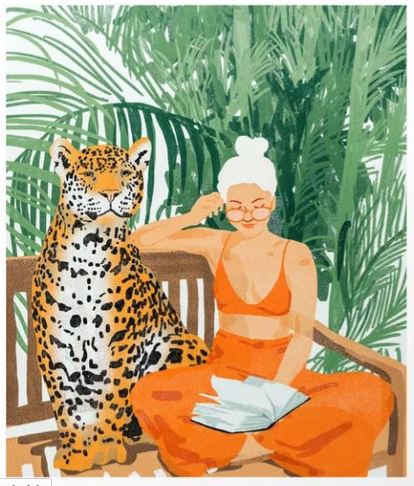 Jungle Vacay by 83 Oranges
And if you think that tropical is going out of style soon as the fall comes along — well it is! — just know that by next year, the tropical prints are going to come back in, so these designs are always something that you can create and keep in your portfolio.
If you need more tropical inspiration, check out what Patternbank forecasts for tropical prints for Spring/Summer 2020.
People + Diversity
This is another trend that was predicted last year and is spot-on. Designers are taking on "social justice" to incorporate people of all shapes, sizes, and colors into their artwork.
Stock photo sites like Adobe Stock
and Shutterstock announced this as a trend and they've done their best to highlight quality images with diversity.
Illustrators, too, are cashing in with people vector packs, portrait creators, and overly exaggerated body features. Lisa Glanz, a very prolific illustrator with her own cute style, has updated her personalized portrait creator, which you can see below. This is a cute product to use for creating invitations, cards, and characters.
Loading Preview…
Powered by Creative Market
But beyond trying to be inclusive, showing people in all their shapes and colors caters to the feeling that it's OK to be imperfect, or that there's no one way to be beautiful. And that's what makes this trend so (hopefully) lasting.
Fonts with Personality
Just like people, fonts come in all different shapes and sizes.
Many of the now-popular fonts are inspired by the 70s. The nostalgia for simple, sunny days filled with roller parties and rainbows has drenched into every part of our sensibilities. Actually, I came a little bit later, but these fun fonts have me feeling good vibes.
Powered by Creative Market
Powered by Creative Market
And for even more great font choices, see my post on the best script fonts for branding.
Creative Market is a great place to find new looks, and their artists' fonts always follow (or start) trends.
As a side note, Creative Market just introduced a new pricing scheme for their fonts where you buy licenses according to how you'll use fonts. So for example, if you plan to use the font on a website, you'll have to purchase a different license than if you're just using it for print. This is better for you, too, as a designer if you plan on selling there!
Shadow Overlays
I thought that they shadow overlay trend would be short-lived…. but I was wrong. Adding shadows to your mockups is still the way to go for that softer, feminine look. The shadow
Want to create your own shadow overlays? See this video tutorial by The Designest.
Wrapping It Up
I love trend roundups because you get a snapshot of what's selling now, possibly giving you ideas for your next product or project. But it's not just enough to follow someone else's trend advice. I encourage you to look for your own.
And above all, to stick to your own sensibilities so that your work doesn't look like everyone else's!
Want more trend inspiration? Follow me on Pinterest, where I spend entirely too much time curating boards related to design trends and inspired living.
**
How are you going to use these trends in your own work?  Leave a comment below!