Creating Social Media Graphics, Multi-Page Layouts, and Editing Photos with three of the most popular graphic design apps
This post may contain affiliate links, which means if you make a purchase through my links, I might get a small commission. This helps me keep creating great content 🙂
It's Monday night and you're up late again trying to make graphics for your blog post that's supposed to go out tomorrow.
A million windows opened, going back and forth trying to resize things, change the font to make things look better, crop and filter photos that just don't look right…
Does this sound like you? This is what I face almost every time I publish a post. Sometimes it seems to take just as long to get the graphics together as it does to write the thing!
Unless you outsource all your graphic work — in which case you might be the envy of many others here — you're likely doing some (or all of it) yourself. Like me!
In which case, you probably have your favorite programs to use for different tasks. I know I have mine: I'm usually working in the Adobe Trio, but just this month, as I officially launched my template shop to help other creative business owners, I signed up for Canva for Work to see what all the excitement is about.
Canva templates are really hot right now, and I wondered whether it was worth creating in that format, too. I've seen that you can create everything from web banners to social media graphics and even magazines in it — or so, they say.
This post was written midway through my experiment with Canva. I'll share my thoughts on what I like about it, and which programs I suggest you use for the common design tasks in your business.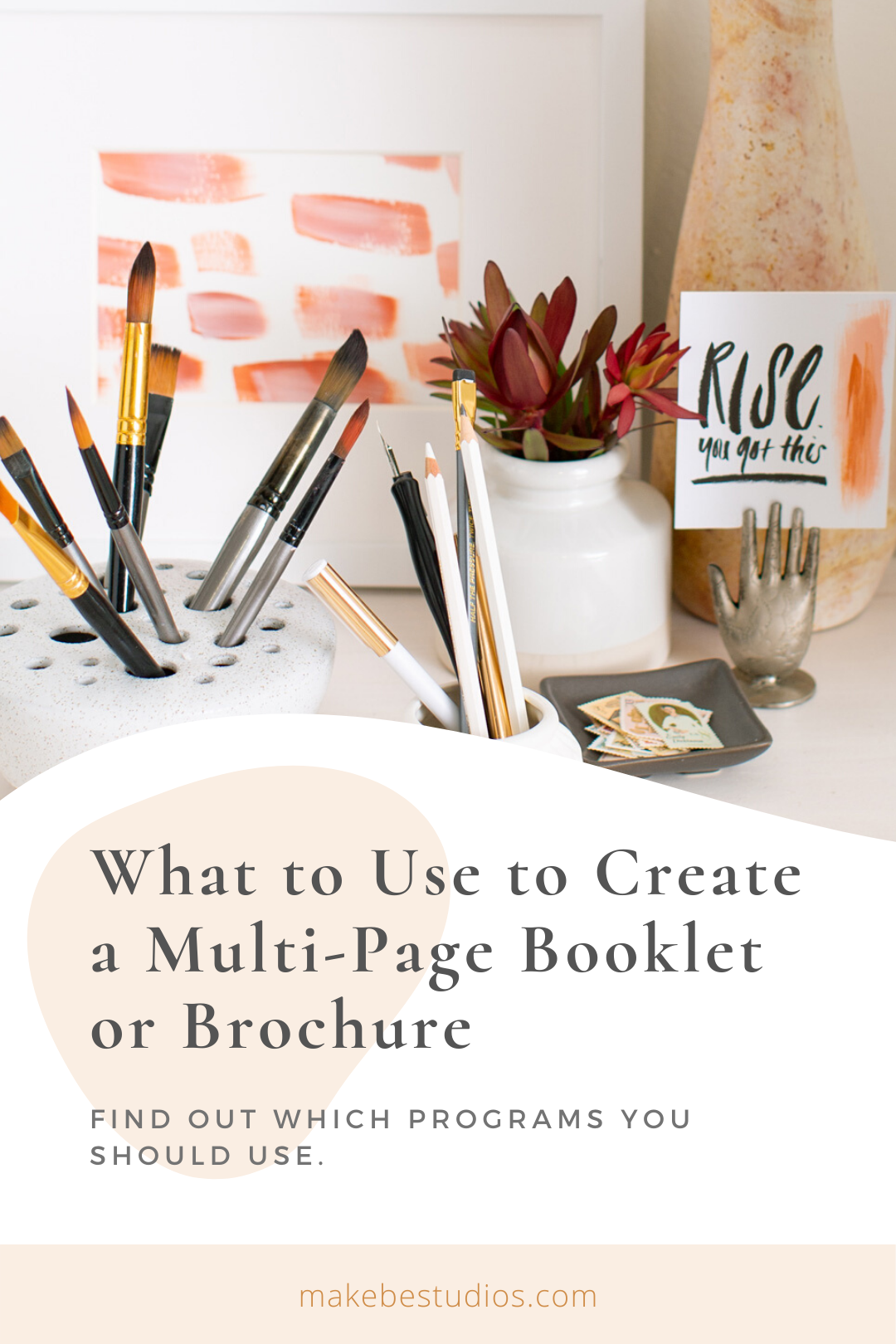 Here's what we're going to cover:
Editing photos for your website or online store

Making social media graphics

Creating and editing multi-page documents

Creating print material (business cards, brochures, etc.)
(PS – There may be many in the Word and Publisher tribe, but please let's not going down that route…  I know, they've been around forever. I used Publisher back in College, but really, times have changed, and your life will be much easier using a newer program. Pinky promise!)
So let's get started and find out which programs you should use if you're editing your photos and creating your own graphics.
Editing photos for your website or online store
Let's start with this topic since editing photos is something that most creative entrepreneurs will be doing unless they can outsource the work.
What's the best program? You guessed it. Photoshop. (Or Photoshop Essentials or Lightroom, depending on your level of expertise and the purpose of these photos.)
Canva and InDesign don't even count here.
In Canva, you can only filter, resize, and crop. Canva is meant to be used for layout, like InDesign (which plays well with Photoshop).
Photoshop is so useful, and there are so many beautiful templates made with Photoshop, that I suggest every creative business owner has a basic working knowledge of the program.
Winner: Photoshop for capabilities
Runner-Up: Errr…
Other options: BeFunky or PicMonkey online editors
Image created in Canva
Next: What's best for making social media graphics?
Now that we've got your images sorted out, let's look at the next step: making graphics.
Coming up with new social media graphics has to be the bane of many solopreneurs' and shop owners' lives (unless you'd rather be a photographer or designer than run your store).
Creating content and managing social accounts can be like another full-time job.
Admittedly, I'm not very active on social; not because I don't love posting beautiful pictures, but because of the time factor.
Until now, I've been switching between Photoshop, Illustrator, and InDesign for my social media posts. What I use is decided by which program I happen to have open, or which format the pre-made templates that I buy on Creative Market are in.
Each program has its pros and cons (as we'll go through in more detail coming up), but when I make a new product, I usually design promotional graphics in InDesign and use the "create alternate layout feature" to get different sizes. You can link stories and graphics to alternate layouts, which is kind of like a "magic resize" button, only it doesn't work as well as I'd like it to.
I've tried Adobe Spark because it's tied to the CC suite, but I feel hemmed in by their current layouts. It's also extremely slow on my computer.
Even though I suggest Photoshop for image editing, it's also slow and I'd rather not use it unless I'm making an animated .gif or a mockup.
Illustrator is, of course, a super tool, but it doesn't handle images as well because clipping masks are really a pain.
Which brings me to Canva… I think that Canva is extremely popular for this reason: It makes designing your social media graphics easy enough for a middle-schooler.
Social graphics are often pretty simple, anyway, and it's great to have a magic resize button that actually works well. With Canva For Work, you get access to a huge library of graphics, stock photos, and premium fonts.
The con is, of course, the subscription cost. Most of the features that I need — like Magic Resize, uploading my own fonts, having a brand kit, and creating multiple folders — are only available in the paid plan, which is currently $12.50/mo. This is still a lot on top of an Adobe subscription (Hello! My most expensive business tool to date!)
What about Canva's free plan for social media graphics?
You still can do a lot with the free plan. For example, if you just buy pre-designed Canva social media templates, you'll definitely be able to edit them in the free version of Canva (providing that the designer only used free fonts).
You also still get access to thousands of free stock photos and fonts… but so do the other 10 million people using Canva.
I think that for now, I'm going to stick with InDesign and just use Canva on the side. But I will be offering Canva social media templates for sale, since it's still a great option for DIY design.
Winner: Canva for simplicity and DIY design
Runner-Up: InDesign, if you know how to use it
Other options: Photoshop. Easil is a newcomer, but still not as feature-rich as Canva
What to use to create a multi-page booklet or brochure
When it comes to multi-page documents, there's nothing better than InDesign.
Whereas Photoshop and Illustrator give you the option to create multiple artboards, InDesign lets you create multiple pages (which are a lot easier to manage), and even create alternate layouts to resize your document. (See the bit about this in my social posts section.)
Photoshop artboards are still a little clumsy, and Photoshop as a tool is not meant for multi-page spreads. If you're using a professional program, stick with what works best.
InDesign is a professional graphics program, but it's pretty intuitive if you've used other Adobe programs. A basic working knowledge will allow you to create a great-looking brochure or catalog on your own or edit a gorgeous magazine template. You can even import keyboard shortcuts from your favorite Adobe programs.
However, to create a really professional-looking document (using a baseline grid, adjusting hyphenation and spacing, etc.), you'll have to dig a little deeper into InDesign.
But it's totally worth it.
Of course, InDesign doesn't come with the basic CC plan, which is why so many people still prefer Photoshop, no matter how frustrating it can be for this type of work. So let's look at Canva.
You technically can create magazines in Canva. But I wouldn't recommend it!
How good is Canva for creating multi-page layouts?
I've been seeing a lot of Canva templates recently for client welcome books and media kits.
And since Canva is so great for making social posts and simple presentations, couldn't it also work for magazines and catalogs?
Yes and no.
For the business owner without a design background, I'd suggest using Canva if you're starting from a well-designed template.
You see, Canva doesn't give you the ability to view a double-page spread. So, even if you're using one of the in-app templates, you won't be able to envision how your pages look next to each other, or what prints on the front and what prints on the back of each page.
This kind of planning is essential for creating a good flow.
Second of all — unless I'm missing something — Canva doesn't have a grid feature. (I'm talking about the document grid, not the image grids which are image placeholders). Which means that if you try to design something yourself, it's more difficult to align objects and come up with interesting layouts that maintain the right proportions.
I've found a Canva help article mentioning how to use the Grid feature, but I can't seem to find it in Canva 2.0. (Has anyone else been successful here??)
And does anyone else hate scrolling through all the fonts? I like my font previews and filtering options, now made easier with the Adobe CC updates.
And finally (for this blog post), there are no master pages. Master pages let you apply certain elements to a certain page or group of pages. This is really easy to do in InDesign.
In Canva, your best work-around would be to duplicate a page or copy and paste some elements on each page.
The list of missing features would go on and on, but to sum it up, if you're going to be creating your own professional multi-page layouts, I wouldn't recommend Canva. Let it shine where it does best, and save this task for others.
A quick note on using PowerPoint and Keynote for multi-page spreads
I said we're mainly discussing Canva, InDesign, and Photoshop. But I have to mention PowerPoint and Keynote because in the in the past few years, I've seen more and more templates crop up for these programs (and even Google Slides).
Just search around Creative Market and you'll see some amazing presentation templates — but also look books, catalogs, and more. I even made a version of my line sheet template in Google Slides!
That's because these programs work well for both print and online presentations, plus they come with several of the features that you'll want for multi-page documents, including grids and master pages. Plus, you can set the file resolution (dpi) for print or web usage, and create custom page sizes.
However… these programs don't offer a 2-page view, so they're IMHO too limited for booklet design, and their text formatting options are pretty basic… but still better than Canva's, in case you need an InDesign alternative.
Winner: Hands-down, it's InDesign
Use it if you're desperate: Pre-designed Canva templates or Keynote/PowerPoint
Try this skillshare class if you want to learn the basics of using InDesign, and also find common tips and answers on the InDesign Secrets blog.
Creating business cards and other marketing material
Ah, business cards. Today you have more options than ever to purchase beautiful, pre-made business cards and get them printed within a day or two.
Canva, Moo, Etsy and Creative Market… Everyone's selling templates to help you look your professional best.
Loading Preview…
Powered by Creative Market
Most business card templates are made with Photoshop, but I like using InDesign.
If you're going to be creating your own cards (and other marketing material), there's really no one program to use. Just be sure that you include bleeds and margins and set up your document to CMYK color and 300 dpi (resolution) so they'll print well.
However, if you're going to be re-scaling your logo and graphics for use among different marketing material, you'll probably want to use a vector-based program (not Photoshop) that maintains the quality of your graphics (such as Illustrator or InDesign).
In other words, use Photoshop at your own discretion… if you know what you're doing.
Clear Winner: InDesign
Runner-up: Photoshop (because everyone has it)
Wrapping It Up
So… Are you advising that I need Photoshop for image work, Canva for social media graphics, and InDesign for multi-page layouts?
In short, that's what I'm currently doing, but that does involve 2 subscriptions.
If you're happy starting with templates and comfortable maybe learning a few new (extremely useful) skills, those would be my recommendations.
Canva aims to be the "be all" for people who need good design, but can't necessarily afford to work with a professional designer or don't want to learn the CC suite. It's great for creating social graphics and simple presentations.
It does both of these things very well… but, as it's made for entry-level graphic work, there are definitely going to be some limitations to what you can achieve.
And unless you make your own (or buy) highly customized templates, you risk looking like everyone else. Which is not good for anybody's business.
InDesign is hands-down my favorite versatile layout program, but I still use Photoshop for all my image work.
What I'm really excited about is the relatively new Affinity suite that includes Affinity Photo, Designer, and Publisher. That's their Trilogy, which aims to be to design what Photoshop, Illustrator, and InDesign are…
They just do things a little differently and haven't had as many years of development as Adobe, so we have to wait to see how they progress.
I haven't used any of this software yet, but I've heard great things about Designer! (I'm currently signed up for the Publisher Beta, so more on that later 🙂
In the meantime, I'd love to hear what design software you use! Leave your comments below 🙂